Let's Solve Team Pain Points Why RevComm Meetings?
*Teams Integrations : TBA
Easy Video

Call Data Organization

Hassle-free Minutes

of the Meeting
Seamless

Salesforce Integration

Easy video

Call Backtrack
FEATURES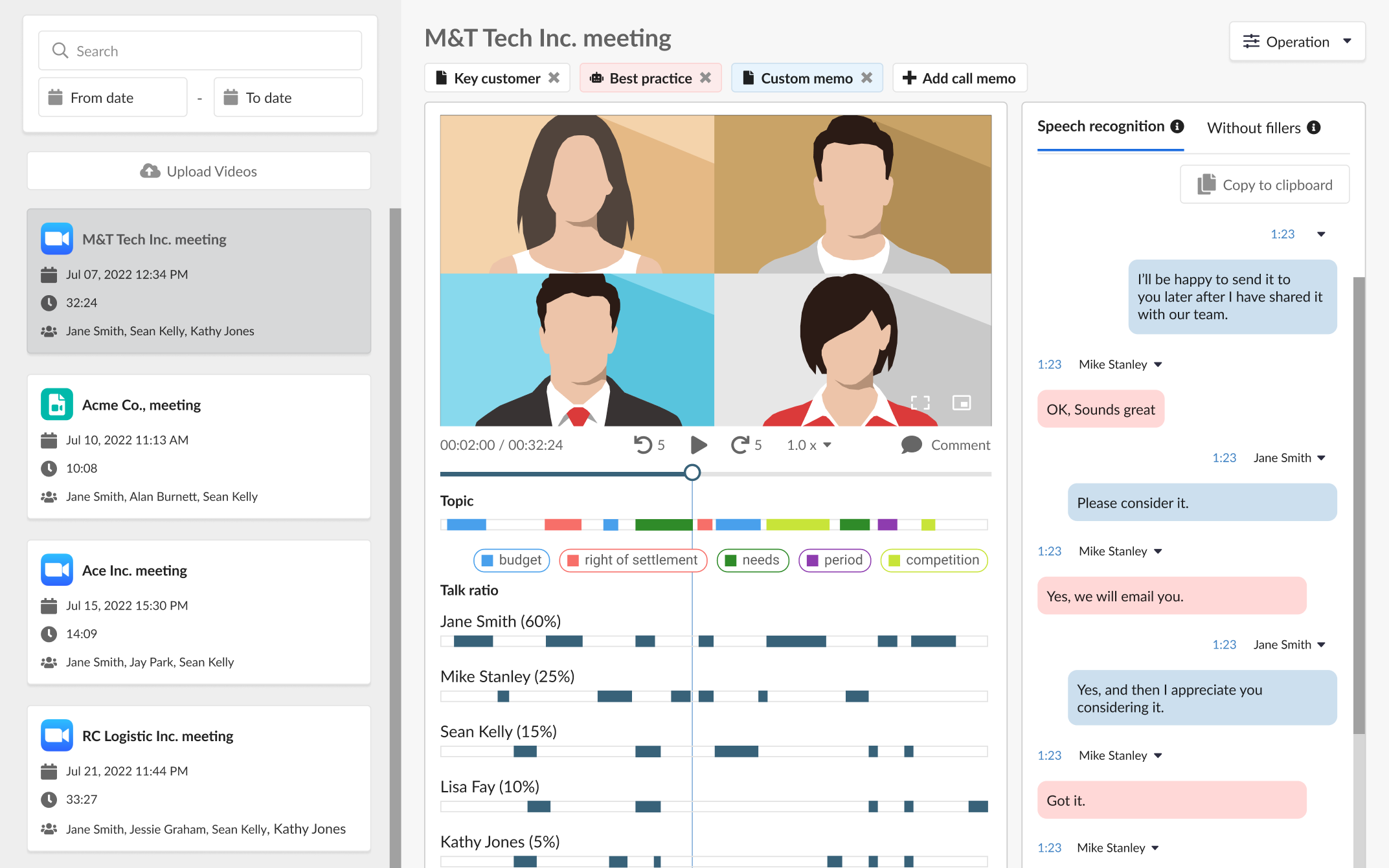 Auto Transcription

Get your meeting minute done quicker.
Your fillers will be automatically removed for easy-to-skim-through transcription.
Easy to read clients' emotions in the meeting.

Conversation Analysis

Quickly understand the flow of conversation and easily replay specific moments of the meeting.
AI-driven analysis to evaluate Rate of Speech, Overlaps and Silences among other metrics.
Summarize meetings in the Comments section and share with the team to review.

Salesforce Integration

Easy visualization of your sales' pipeline.
Unlock your high performers' sales actions.
Combine client's data and the footage.
Enrich Your Sales Enablement Experience
3 Ways to Integrate Footage
Link Zoom/Teams/Google Meet and RevComm Meetings together.
Meetings will be automatically recorded and stored in RevComm Analytics. The footage, Conversation analysis, and chat logs will be availble anytime you need them.
NO ONE WILL MISS A THING!
Start Recording
on Cloud

Save the footage

automatically on

RevComm Analytics

Conversation
analysis &footage
available anytime
Or You Can Upload The Footage on RevComm Later
You can upload mp4, mp3, m4a, and wav on RevComm Analytics without Online Meeting Platform integration.
Saves Footage

Automatically

Be up to date

by Salesforce

Integration

Conversation
analysis & footage
available anytime
Be Up-to-Date by Salesforce Integration
Efficiency and time saving is our top priority. Your saved data in RevComm Meetings is automatically saved/reflected/shown/seen in Salesforce.
RevComm Meetings

Analyzes

conversation

Reflects on
Salesforce
PRICING
29.00

Per user, per month

Free Trial Available
No credit card needed
FAQ
Why Choose RevComm Meetings when there are bunch of other similar services out there?

Our clients choose RevComm Meetings for its ease and powerful Sales Enablement.
Having too many features will just confuse you and worsen your productivity. If you use our product, you can quickly unlock your members' conditions, and no one will miss out due to our high quality features eg : automated transcript, recording, analysis.
It's super user friendly so you can adapt to our product right away!
Do clients get mad when we record the meeting?

Not necessarily, most clients/customers remain at ease if you ask them for consent that you are recording the meeting for future reference and to maintain the quality of the call.
I don't use RevComm, but can I still use only RevComm Meetings?

RevComm is a great tool especially when you want to save time and effortlessly analyze calls or meetings.
What Do I Need?

All you need is an Online Meeting platform (not a free version since you need to have a cloud recording ready) and laptop!
Can I notify my members when the recording analysis is done ? / when someone made comments on the recording?

Yes! Slack integration enables automated notifications everytime when the AI finished analysis, when someone commented on the recording, and when 'Call Memo (meeting tags) ' is added.
Can you export the analysis result? Can you notify newly created footage's analysis result?

You can export it on Google documents, Microsoft word etc by linking zapier. Zapier will also notify for new footage and analysis results via slack, email etc...